In view of growing housing demand in the twin cities, FDHL intends to build a quality housing project on M2 Motorway near New Islamabad International Airport falling on the eastern route of CPEC. Capital Smart City aims to become first ever smart city in Pakistan and a model for sustainable development.
WHY SMART CITY
Capital Smart City is a new eco-friendly destination with an exclusive designated interchange on motorway (M2). A grand entrance with 18-Lanes (400 Ft. wide) central boulevard just 5-7 minutes away from New .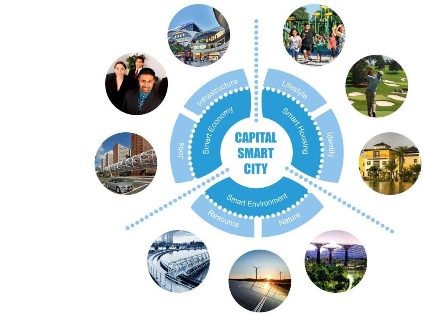 Located on Motorway (M2) with close access with new Islamabad International Airport and twins Cities.
SMART FEATURES

CCTV OUTDOOR CAMERAS
The property is covered through front and rear external CCTV cameras. You can monitor outside of your property on monitors installed inside the living rooms and also on your smart phone any time and anywhere in the world.
CCTV INDOOR CAMERAS
All living rooms, stair lobby and drawing room are covered through indoor CCTV cameras. You can monitor your house on your smart phone, 24/7 anywhere in the world.
REMOTE ACCESS
Control your electrical home appliances through your smart phone / tablet / computer.
SMART MOTION SENSORS
Your house is covered by motion sensors. When activated, it provides local alarm as well as SMS and email alert on your smart phone. Acts as warning system against any intruder.
AUTOMATED DOOR LOCK
Via your smart phone app, remotely lock/unlock your house main door. Give access to your guests remotely. Gas sensor – All kitchen areas are fitted with a gas leakage sensor to warn you of any accidental openings of gas to safeguard against any potential loss of life and property. Your smart phone will warn you along with a local alarm.
MAGIC BOX
It's time to get rid of all kinds of controllers in your house.
SMART SWITCH
Control the lights and appliances through your smart phone.
TEMPERATURE & HUMIDITY SENSOR
Real-time detection and viewing on the phone link with air conditioner to adjust the temperature automatically.
SMART DOOR AND WINDOWS
All ground floor windows and doors are fitted with sensors. When activated as well as a local alarm, you will receive alerts via SMS and email on your smart phone. Acts as a warning system against any intruder/break-in.